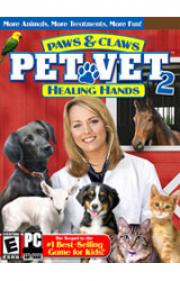 As some of you might know, I'm going to be a veterinarian when I get older. I've been to Texas A&M University in Bryan/College Station. While there, I attended the spring open house at the Vet School. I was able to tour the small animal clinic on a guided tour... But that's another post. Now about my favorite computer program. It's called
Paws&Claws PET VET 2 Healing Hands.
If you like animals or want to be a vet you really should try out this game. On this game you start a vet clinic and doctor eight different kinds of animals horses, dogs, cats, rabbits and more.
In this game pet's owners bring you there animals and tell you the animals symptoms. And your virtual personal digital assistant (Pda) tells you how
to doctor it. You can study and go to college. I really like this game and enjoyed it.