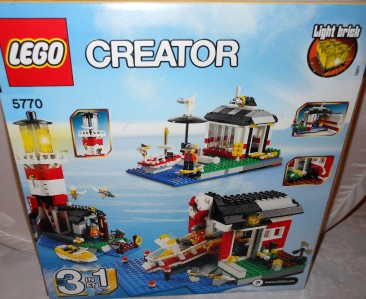 L
ast year at Christmas one of the gifts I received was this Lego Lighthouse creator set. During the time I've owned it I have had a wonderful time building and rebuilding this fabulous Lego set. As seen on the box, you can build this set into a lighthouse, restaurant, and a boat house. I've only built the lighthouse and have not built the others. The lighthouse has a big door on the side of it so you can open it and look inside. It also, has a handle in the back of it for you to turn the light up top. When you finish building the light house, you can build an included boat and to sea gulls. My favorite thing about this set is that it comes with a real light.
Five lighthouse facts
The world's first known lighthouse was built by the Egyptians around 283 BC.

The oldest light house in America is in Sandy Hook, New Jersey and is still in use.

The most expensive lighthouse built in America cost $ 715,000.00.

Once there were 850 lighthouses in America at the same time.

The first fog horn was a cannon which was at the Boston lighthouse.